Request Quote
---

Request Quote
---
Thank you for your inquiry. We are working on your request and will respond as soon as possible. For immediate inquiries please call 1-866-651-2901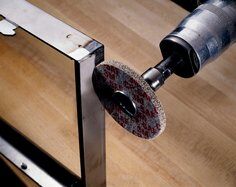 Download the free Library Loader to convert this file for your ECAD Tool.
Learn more about ECAD Model here.
3M ELEC PROD

7010367842
3M Catalog # 890407, Standard Abrasives™ S/C Unitized Wheel 890407, 732, 5 in x 1/2 in x 1/2 in, 4 per case. Our Standard Abrasives™ Silicon Carbide 700 Series Unitized Wheel has a medium to hard density with increased edge durability, making it a good match for tough finishing applications. This non-woven abrasive wheel provides the durability needed for achieving a fine finish even on hard metals such as titanium. Sales UPS: 00051141435480
Ordering Info
In Stock: 0
MOQ: 4
Lead Time: 2 weeks
Package Quantity: 1
Secure Payment Methods:


Need more Info?