Request Quote
---

Request Quote
---
Thank you for your inquiry. We are working on your request and will respond as soon as possible. For immediate inquiries please call 1-866-651-2901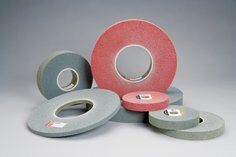 Download the free Library Loader to convert this file for your ECAD Tool.
Learn more about ECAD Model here.
3M ELEC PROD

7010367845
3M Catalog# 850376, Standard Abrasives™ GP Wheel 850376, 8 in x 1 in x 3 in 9S FIN, 5 per case A versatile product suitable for many different tasks, the Standard Abrasives™ General Purpose Convolute Wheel is a good starting point for maintenance tasks when a specialty product is not required. Use it on any metal for a range of shop jobs such as light to medium deburring, cleaning and finishing, light defect removal and edge radiusing. UPC: 00051141435558
Ordering Info
In Stock: 0
MOQ: 5
Package Quantity: 5
Secure Payment Methods:


Need more Info?