Request Quote
---

Request Quote
---
Thank you for your inquiry. We are working on your request and will respond as soon as possible. For immediate inquiries please call 1-866-651-2901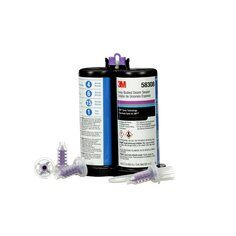 Download the free Library Loader to convert this file for your ECAD Tool.
Learn more about ECAD Model here.
3M ELEC PROD

7000045515
3M Catalog# 58308, 3M™ Heavy-Bodied Seam Sealer, 58308, 600 mL DMS Cartridge, 6 per case Our 3M™ Heavy-Bodied Seam Sealer is a two-part epoxy seam sealer for all general purpose automotive sealing. It cures quickly to a tough, strong bead for lasting seam sealing protection and is used on door skins, floor pans, trunk floors, roof seams, and many other applications. Our self-mixing system ensures a proper mix ratio every time - delivering a consistent cure rate and strength. UPC: 00076308583088
Ordering Info
In Stock: 0
MOQ: 4
Package Quantity: 4
Secure Payment Methods:


Need more Info?