Request Quote
---

Request Quote
---
Thank you for your inquiry. We are working on your request and will respond as soon as possible. For immediate inquiries please call 1-866-651-2901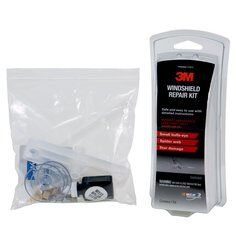 Download the free Library Loader to convert this file for your ECAD Tool.
Learn more about ECAD Model here.
3M ELEC PROD

7000045533
3M Catalog# 08580, 3M™ Windshield Repair Kit, 08580, 3 per case 3M™ Windshield Repair Kit uses a clear glass resin to fill small bull's eyes, chips, spider web cracks and star damage, preventing damage from spreading over the windshield. By preventing windshield cracks, this kit can potentially save the cost of an entire windshield replacement. Filling chips with our auto glass repair kit also improves the appearance of your vehicle. UPC: 00051135085806
Ordering Info
In Stock: 0
MOQ: 3
Package Quantity: 3
Secure Payment Methods:


Need more Info?