Request Quote
---

Request Quote
---
Thank you for your inquiry. We are working on your request and will respond as soon as possible. For immediate inquiries please call 1-866-651-2901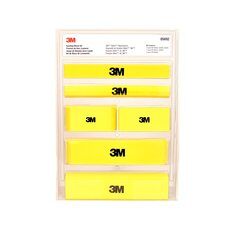 Download the free Library Loader to convert this file for your ECAD Tool.
Learn more about ECAD Model here.
3M ELEC PROD

7000120058
3M Catalog# 05692, 3M™ Stikit™ Sanding Block Kit, 05692, 6 per case Our 3M™ Stikit™ Sanding Block Kit lets you keep comfort and convenience on hand for effective sanding. A range of 6 block sizes allows auto repair technicians to hand sand precisely where needed, with plenty of support even for hard-to-sand areas. These easy-to-use tools work with our 3M™ Stikit™ abrasive sheet rolls, featuring adhesive backing that applies firmly to the block during sanding. UPC: 00051131056923
Ordering Info
In Stock: 0
MOQ: 6
Package Quantity: 6
Secure Payment Methods:


Need more Info?