Request Quote
---

Request Quote
---
Thank you for your inquiry. We are working on your request and will respond as soon as possible. For immediate inquiries please call 1-866-651-2901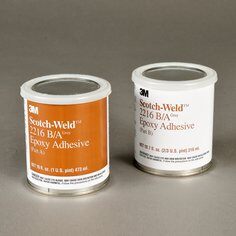 Download the free Library Loader to convert this file for your ECAD Tool.
Learn more about ECAD Model here.
3M ELEC PROD

7010310194
3M Catalog# 2216, 3M™ Scotch-Weld™ Epoxy Adhesive 2216, Translucent, Part B/A, 1 Pint Kit, 6/case 3M™ Scotch-Weld™ Epoxy Adhesive 2216 is a flexible, two-part epoxy adhesive that cures at room temperature. It provides a high strength bond with both high shear and peel strength while remaining highly flexible, making it ideal for applications where vibration and thermal expansion and contraction are common. It also withstands very cold temperatures without becoming brittle. UPC: 00021200208522
Ordering Info
In Stock: 0
MOQ: 6
Package Quantity: 6
Secure Payment Methods:


Need more Info?