Request Quote
---

Request Quote
---
Thank you for your inquiry. We are working on your request and will respond as soon as possible. For immediate inquiries please call 1-866-651-2901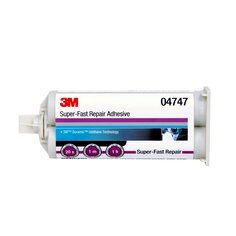 Download the free Library Loader to convert this file for your ECAD Tool.
Learn more about ECAD Model here.
3M ELEC PROD

7100006276
3M Catalog# 04747, 3M™ Super-Fast Repair Adhesive, 04747, Amber, 47.3 mL Cartridge, 6 per case 3M™ Super Fast Repair Adhesive is a high performance, two-component, semi-rigid, urethane adhesive. This fast-setting adhesive produces rapid results and offers excellent wide gap filling capabilities. This repair adhesive can be used for a variety of applications, does not run or sag and withstands a wide range of temperatures. UPC: 00051131047471
Ordering Info
In Stock: 0
MOQ: 6
Package Quantity: 6
Secure Payment Methods:


Need more Info?